The link that brought you here is out of date. If you're looking for something in particular and can't find it on our site, please contact us and let us know.
Otherwise, while you're here, please take a few moments to look at some of the sites we've built. These sites are designed to be profitable and effective. We believe in clean, direct design that makes it easy for your customers to learn about what you offer and then to contact you or order online, depending on your goals. You'll notice that every site is as unique as its owner. Your site will be built to your specifications, designed around your image and business.
In addition to great-looking, effective design, we do custom programming so your site will do exactly what you need it to do. We can create shopping carts, searchable databases, and sophisticated back-end interfaces that allow you to easily update the content of your site yourself through your browser without knowing any HTML. If you need audio or video, our team can produce or edit it and convert it for use on your web site.


Travel International Sports
Youth Sports Tours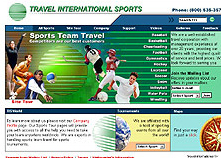 NanceeBrown.com
Interior designer Nancee Brown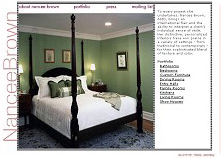 C2CRadio.com
Reliable radio syndication company